Logos information centre
---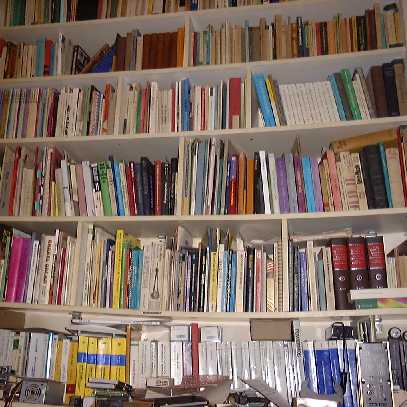 Magazines and Journals available at the Foundation:
All periodic publications are indexed on theme and entered in our databases. This task is done by Xavier Verhelst.
The information centre is open to the public every day during office hours (9h00-17h00). You can make appointments either by e-mail (preferred!) or by phone.

[32]-9-223.80.89
Electronic hardware related:
Circuit Cellar [Eng]
Elrad [Ger]
Elektuur [Nl]
Complete component databooks, guides and application notes from following hardware suppliers: (We also keep a wide collection of databooks on older components, including vacuum tubes and obsolete transistors, chips... available in our library).

Philips
Harris
Analog Devices
Burr Brown
Intel, Texas Instruments
Maxim
Dallas Semiconductor
Motorola
Siemens
National
Hitachi
PMI
Lucas Ledex
August Laukhuff
Intersil
Audio & studio equipment related:
Studio Sound [Eng]
Pro Sound News Europe [Eng]
Music related:
Logos Blad [Nl- Eng] ( since 2014, only on the web)
Musik Texte [Ger]
MusicWorks [Eng-Fra]
Finnish Music Quarterly [Eng]
Gaudeamus Information [Eng]
DEGEM-Mitteilungen [Eng-Ger]
Organized Sound [Eng]
Leonardo Music Journal [Eng]
Computer Music Journal [Eng]
Adem [Nl]
Ringgespraech ueber gruppenimprovisation (1992-1998) [Ger]
The logos archives have a wide collection of stopped magazines and old periodic publications with regard to new music. Some examples are: Soundings, Neuland Jahrbuch, Musique en Jeu, Raving, Interface, Ear-magazine, Interval, 1/1, The Improviser, Celesta, Experimental Musical Instruments, Contact…
Back to Logos' main index page…
---
Godfried-Willem Raes, "Logos @ 50, het kloppend hart van de avant-gardemuziek in Vlaanderen:, ed. Stichting Kunstboek, Oostkamp, 2018
Van Bendegem, Jean Paul, 'Verdwaalde Stad", 2017
Van Bendegem, Jean Paul, 'Elke drie sekonden"
Van Bendegem, Jean Paul, "De vrolijke atheist"
Marc Leman, "The expressive moment"
Thomas Serien, "Klank"
"E.L.T.Mesens,l'alchemiste meconnu du surrealisme", Christiane Krauss , ed.Labor, Bruxelles, 1998.
Nieuwe Muziek in Vlaanderen, ed.Stichting Kunstboek, Brugge 1998 (+ CD)
Kingsley, Simon & Quegan, Shaun "Understanding Radar Systems", London, 1992
Schwanauer, Stephan M. , 'Machine Models of Music", MIT-press, 1993
Johnston, Ian 'Measured Tones, the interplay of physics and music', London 1989, (1994)
Van Bendegem, Jean Paul, 'Tot in der eindigheid' (1997)
Raes Koen, 'Het moeilijke ontmoeten' (1997)
ed.Roads, Curtis a.o., 'Musical Signal Processing', Lisse, 1997
ed. Philip Blackburn, Harry Patch: 'Enclosure 3', American Composers Forum, Saint Paul, USA,1997
Taylor, Charles 'Exploring Music, the science and technology of tones and tunes', London, 1992
Carlson N,W. 'Monolithic diode-laser arrays', 1994
Xenakis, Iannis 'Formalized Music'
Leman, Mark 'Music and Schema Theory'
Leman, Mark (ed.) 'Music, Gestalt and computing' (1997)
Komponisten der GegenWart (Ed.Text+kritik) Update april -2
Clayton Johnson 'Troubleshooting and configuring the Windows NT/95 registry'
Walter Gieseler 'Harmonik in der Musik des 20.Jahrhunderts'
Weber, U 'SCSI-standards/controllers-software'
Chadabe,Joel 'Electric Sound' , 1997
Sutherland, Roger 'New Perspectives in Music' , ed.Sun Tavern Fields, London 1994
Helga de la Motte-Haber "Handbuch der Musikpsychologie",Laaber, 1985
R. Murray Schafer 'The Tuning of the World'
R. Murray Schafer 'The Thinking Ear'
R. Murray Schafer 'On Canadian Music'
R. Murray Schafer 'Wolf Tracks'
R. Murray Schafer 'The Sixteen Scribes'
R. Murray Schafer 'The Chaldean Inscription'
R. Murray Schafer 'The Book of Noise'
R. Murray Schafer 'A Sound Education'
R. Murray Schafer 'Dicamus et Labyrinthos'
R. Murray Schafer 'Patria and the Theatre of Confluence'
R. Murray Schafer 'Ariadne'
R. Murray Schafer 'Music in the cold'
R. Murray Schafer 'E.T.A. Hoffmann and Music'
R. Murray Schafer 'Voices of Tyranny: Temples of Silence'
The logos library contains more than 6000 specialized books…
Back to Logos' main index page
---
Software-package updates and acquisitions:
Windows 8, 32 and 64 bit editions
MSDN & Visual Studio
NiDAQ data acquisition software
Microsoft Visual Basic 6.0 Language Reference
National Instruments LabView
Microsoft Office2000
Microsoft Publisher
Power Basic Console Compiler 6.03 (2016)
Power Basic Windows-compiler (version 10.03, 32-bit compiler, 2016)
Dreamweaver
Sonar (Cakepro, Twelvetone systems)
Back to Logos' main index page
---
R. Murray Schafer
Jonah (choir, actors, flute, clarinet, piano)
Le cri de Merlin (guitar, tape)
Loving (voices, actors, string 5tet, harp, piano, guitar, mandolin, accordion, 6 perc., tape)
Wolfman (Patria 1) (music-theatre)
Requiems for the party girl (Patria 2) (music-theatre)
The Greatest sShow on Earth (Patria 3) (music-theatre)
The Princess of the Stars (Patria: the prologue) (music-theatre)
Galina Ustvolskaja
Composition no.1 (piccolo, tuba, piano)
Lois V Vierk
Into the Brightning Air (string quartet)
River Beneath the River (string quartet)
Simoom (8 celli)
Demon Star (cello & marimba)
Red Shift (cello, e-guitar, percussion and synthesizer)
Hans Werner Henze
'Memorias de "El Cimarron"' (guitar)
Christian Wolff
'3 Pieces' (violin and viola)
Joachim Brackx
'Ikeru' (violin and cello)
Kristof Lauwers
'Processing #1' (flute, accordion and guitar)
'Processing #3' (female voice, flute and theremin)
Nicolaus A. Huber
'BEd and Brackets' (piano and tape)
Istvan Matuz
'6 Studii per flauto solo'
Mansoor Hosseini
Stefan Van Eycken
'Blinded Alleys' (clarinet, trombone and e-guitar)
Helmut Oehring
'Foxfire Eins' (2 versions: guitar or cello)
Emanuela Ballio
comme pour jeu (piano)
Improvviso (guitar)
Fantasmagoria (french horn and piano)
Rodrigo Sigal
Dolor en Mi (guitar and tape)
Babel (flute, tape and electronics)
Robert Ashley
Ben Johnston
'Vigil' For improvising speaking group (6 people)
4 do it yourself pieces (1969)
Mauricio Kagel
Godfried-Willem Raes
'HydroCePhallus' for symphonic band
'OboTek' for oboe and interactive computer
'Dynamo' for electric guitar and home trainer
Cella (viola & cello)
Elettronika (verbosonic piece for 4 voices)
William Russell
Dan Senn
Rivis, for any 3 treble instruments in the same key (1985)
Stuart Saunders Smith
Blue for trumpet, drum set and double bass (1979)
Gifts for keyboard and two melody instruments (1974)
Return and Recall - Initiatives and Reactions : performance systems : studies in the concept of group composition (1977)
The LINKS Series of Vibraphone Essays (no.5)
Wind in the Channel for tenor recorder (1994)
Legacy Variations # 1 & # 99 for three sustaining melody instruments
Songs I - IX for actor-percussionist (1982)
Blue Too for solo drum set (1983)
Karlheinz Stockhausen
'Kinntanz' vom Samstag aus Licht
' Xi' fuer Altfloete oder Floete.
'Musik im Bauch'
'Flautina' (Solo fuer Floete mit Piccolo und Altfloete)
'Amour' (fuer Floete)
'For times to come', 17 texts for intuitive music.
James Tenney
Deus ex Machina (1982) [for tam-tam player and delay system]
Spectral Canon for Conlon Nancarrow
Amnon Wolman
No U Turn (1993) [6 percussionists playing handcuffs]
No Dogs or Cats Unless on Leash (1994) [rain sticks, minimum 3 players]
Right Lane Must Turn Right (1995) [for many tubas]
Slippery when wet (1995) {3 low & 15 high instruments]
'The Noble Snare' - compositions for unaccompanied snare drum (4 volumes) ed.: Smith Publications, Baltimore USA
The logos score library contains more than 2500 new music scores…
Heliosonics : a solar powered sound project by Ernie Althoff - NMA CD9904
Hans Tammen : Endangered Guitar
Libera Societa di Improvvisazione (diretta da Antonella Talamonti) : Al malaiko noskema - LEOLAB CD 050
Michel Doneda : Anatomie des clefs - Potlach 598
Daunik Lazro & Carlos Zingaro : Hauts Plateaux - Potlach 498
Michael Clarke : Refractions MPS CD003
From Fylkingen Records :
Akos Rozman : Impulsoni - De tva, med tre instrument - FYCD 1013
Ilmar Laaban : Ankarkattingens slut ar sangens borjan - FYCD 1011
Yuji Takahashi plays John Cage: Sonatas and Interludes vol.1 - FYCD 1010
2 composers : Jonas Broberg & Erik Mikael Karlsson (electroacoustic music) - FYCD 1009
Leif Elggren : Talking to a dead queen - FYCd 1008
Dror Feiler &the too much too soon orchestra : What is the point of Paris? - FYCD 1007
5 composers (electroacoustic works of Rolf Enstrom, Lars Larsson, Erik Peters, Cristian Marina, Patrik Thorell) - FYCD 1006
Mats Lindstrom & Soren Runolf : A wonder of beauty and efficiency - FYCD 1005
Kent Tankred : Ordinary Things - FYCD 1004
5 composers (electroacoustic works of Anders Blomqvist, Jonas Broberg, Akemi Ishijima, Tamas Ungvary, Akos Rozmann) - FYCD 1003
5 composers (electroacoustic works of Peter Lunden, Jens Hedman/Erik Mikael Karlsson, Paul Pignon, Thomas Bjelkeborn) - FYCD 1002
Tommie Lundberg : Blow - FYCD1001
Lokomotiv Konkret : Kein aber
Johannes Bergmark : Material music
Bits and pieces/EMS 30 years (electroacoustic works of Swedish composers)
Hein Pijnenburg : Barbaarse Dans
From Donemus Composers' Voice :
Jan Van Vlijmen : Un malheureux vetu de noir - CVCD17/18
Music by Hans Henkemans - CVCD14
Jan Van Vlijmen (Sonata, Omaggio, Inferno) - CVCD59
Tristan Keuris (Sinfonia, Violin concerto, Movements) - CVCD30
Ives Ensemble CVCD63
Gedda Grip! Fantasy c/v - The Fantasy c/v Project, Rod Summers - Vec audio
Steve Roden: Humming endlessly in the hush - NPIB-2
Ears open! - Symphonic works of Magnus Lindberg, Esa-Pekka Salonen & Jouni Kaipainen - Finlandia FACD 394
Endymion ensemble - John Whitfield, conductor - Works of Lindberg, Kaipainen, Hameenniemi, Saariaho - Finlandia FACD 361
Finnish works for Accordion - Matti Rantanen, acc. - Works of Magnus Lindberg, Erkki Jokinen, Tapio Nevanlinna, Jukka Tiensuu, Leonid Bashmakov, Magnus Lindberg - Finlandia FACD 404
Philippe Jubard: 1998 (electronic music) - BC-CDA.01
Nicolaus A. Huber - Air mit 'Sphinxes', Demijour, Beds and Brackets, Nocturnes - Col legno AU 31821
20 ans de musique contemporaine a Metz - H. Lachenmann: Accanto, F. Guerrero: Sahara, M. Kagel: Liturgien, I. Xenakis: N'Shima - AU 31836
Mauricio Kagel - Les idees fixes, Musik fuer Tasteninstrumente und Orchester, Opus 1.991 - Col legno Au 31826
Helmut Lachenmann: klaviermusik - Roland Keller, klavier - Col legno AU 31813
Gyorgy Ligeti - Erika Haase: klavier und cembalo - Col legno AU 31815
Stefan Wolpe - Music for any instruments - Ensemble avance - Col legno AU 31809
Isang Yun - Kammermusik - Eduard Brunner (clarinet), Marion Hofmann (harp), Walter Grimmer (vcl), Oleg Kagan (vln), Wilanau-Quartet - Col legno AU 31808
Max E. Keller - Kammermusik - Col legno AU 31801
Paul Termos - Concerto for alto saxophone (Arno Bornkamp), String Quartet I (Mondriaan Kwartet), Expres(s)(Doelenensemble olv Arie van Beek), Groundwork (Doelenensemble olv George Wiegel), Concerto for flute (Eleonore Pijper) - Donemus CV60
The exuberant Harpsichord - Jukka Tiensuu, harpsichord - Works of Gyorgy Ligeti, Thomas Morley, Jean-Philippe Rameau, Erik Bergman, Anneli Arho, Esa-Pekka Salonen, Usko Merilainen, Francois-Bernard Mache
Altered Landscapes - Guy Klucevsek, accordion - Compositions of Henry Cowell, Amy Denio, Guy Klucevsek, John Cage, Alvin Lucier, Alan Hovhaness, Burt Bacharach, Charlie Haden - Evva 33011
Louis Andriessen: Nocturnen, Ittrospezione III, Anachronie I, Contra Tempus, Anachronie II - Netherlands Ballet Orchestra, cond. Howard Wiliams - Donemus CV 54
Wendy Mae Chambers: 122 - perc. : Michael Pugliese, Randy Crafton, Jason Cirker, Charles Kiger, Andy Bowman, Kory Grossman, Mark Belair, Dan McMilan, Frank Cassara, David Cossin, Jimmy Musto, Dominic Donato; cond.: Howard Van Hyning - New World Records 80526-2
Gardens of Versailles - Les Coucous Benevoles - Elissa Poole flute, Stephen Marvin, David Greenberg violin, Sergei Istomin, Nan Mackie viola da gamba, Colin Tilney harpsichord - Artifact ART014
Living Tones - Jin Hi Kim, komungo - With the Sirius string quartet, Robert Dick flute, Thomas Buckner baritone, Joseph Celli oboe, Korean musicians - OOdiscs 0024
Biogenesis - Eliane Radigue - Metamkine MKCD019 1996
Spelling Alphabet - Estelle Goldfarb, Michael Wolteche violin & Yves Mora cello
Rocks & Wraiths - Electroacoustic compositions by Natasha Barrett - Nota Bene records 1997
LeiseLaute - Elektroakustische Musik - Friedhelm Hartmann, Ralf R. Ollertz, Jutta Ravenna, Helmut Zapf, Harry-Ed Roland, Martin Supper, Gunter Heinz, Gerhard Behles, Lutz Glandien - DEGEM CD3
Cezanne's doubt - chamber opera by Daniel Rothman - Thomas Buckner baritone, David Smeyers clarinet, Wadada Leo Smith trumpet, Ted Mook cello & Kent Clelland electronics - New World Records 80528-2
Mary Jane Leach - Ariadne's Lament -New York Treble Singers, Virginia Davidson conductor - Arlene Travis soprano, David Lee Echelard tenor - Cassatt String Quartet - Libby Van Cleve oboe, Patrick Burton clarinet, Klyph Johnson bassoon - The Rooke Chapel Choir, William Payn conductor
Graphic scores and concepts - Agon Orchestra concucted by Petr Kofron - works by Miroslav Ponc, Karl Peter Roehl, Anastis Logothetis, Milan Grygar, John Cage, Cornelius Cardew, Milan Knizak, Michael Nyman, Daniel Goode, Marian Palla - audio ego 01-2
invisiblE ARts - selected work - electro-acoustic works by Simon Atkinson, Pete Stollery, Robert Dow, Alistair MacDonald - Tractatus (1991-95)
Tibor Szemzo - Leo records 227
Tales from the forest - Ensemble Uncontrolled (Christoph Gallio, Eduard Akulin, Mart Soo, Kalle Laar & Takashi Kazamaki) - Leo Lab cd 024
Stockhausen 3 - Elekronische Musik 1952-60 - (Etude - Studie I & II - Gesang der Junglinge - Kontakte) - Stockhausen Verlag
Tubes for Sections - Compositions of Frank Nuyts, performed by Hardscore
PRESENCE - A compilation of works from the members of the CEC
Cieletterra - (F. Luescher, M. Rieben & C. Wildbolz) - Altri Suoni 030
John MCGUIRE - 48 Variations for Two Pianos (1976-1980) - Herbert Henck / Deborah Richards - LARGO 5108
Eleanor HOVDA - Coastal Traces - Libby Van Cleve double reeds, Jack Vees bass and guitar - OOdiscs 0029
Volker STAUB - Kompositionen fuer Stahlsaiten, Baumstaemme und Glasglocken - Dirk Rothbrust Schlaginstrumente, Volker Staub Stahlsaiten - Villa Massimo 9702
Axelsson & Nilsson Duo (trombone & percussion) - The Monolith Masque (Kent Olofsson), Dadra (Karin Rehnqvist), Siren (Christer Lindwall), Even the blood must sleep (Dror Feiler), Stilleben (Mats Persson) - [C] & [P] 1997 dB Productions Sweden
PERSPECTIVES OF NEW MUSIC - Brian Ferneyhough : Lemma-Icon-Epigram (1981) James Avery piano - Iannis Xenakis : Voyage absolu des Unari vers Andromede - Barry Truax : The wings of Nike - William Schottstaedt : 97 dB Productions Sweden
Wait for me! - PNM 28
Xenakis live in New York - Phlegra, Kuilenn, Kai, Epicycles, Live interview - Charles Z. Bornstein conductor, St-X Ensemble Xenakis USA - Vandenburg 1997
Pauline Oliveros : Alien bog / Beautyful soop - Pogus Productions 1997
Iannis Xenakis : Kraanerg - Charles Z. Bornstein conductor, St-X Ensemble Xenakis USA - Asphodel - Sombient 1997
Iannis Xenakis 2 : la legende d'eer (Diatope) - WDR - Auvidis 1995
10 years of essential music - works of Johanna M. Beyer, Robert Ashley, Peter Garland, John Kennedy, Christian Wolff, Malcolm Goldstein, Kyle Gann, Charles Wood - Monroe street music 1997
American Piano Music of our Time - Ursula Oppens piano - works of : Conlon Nancarrow, William Balcom, Elliott Carter, Michael Sahl, Julius Hemphill, John Adams, Lukas Foss, David Jaggard, Frederic Rzewski, Charles Wuorinen, Tobias Picker, John Harbison, Anthony Davis - Music & Arts CD 862
Suspended Music - Deep Listening Band & the Long String Instrument - Epigraphs in the Time of AIDS (Pauline Oliveros) - TexasTravelTexture (Ellen Fullman) - Periplum 1997
Adam Lamb : Archival Recordings - Dorobo
Annea Lockwood : The Glass World - What Next? Recordings
Alvin Lucier : Panorama - Wind Shadows, Music for Piano, with One ore more snare drums, Music for Piano with Amplified Sonorous Vessels, Panorama - Ronald Dahinden trombone, Hildegard Kleeb piano - Lovely Music Ltd
Atalanta (acts of god) - An Opera by Robert Ashley - Lovely Music Ltd
The Chamber Music of Steve Horowitz - Ponk Records
John Luther Adams - Clouds of forgetting, clouds of unknowing - The Apollo Chamber Orchestra, Joann Falletta, conductor - New World Records
Watt ever - Compositions of Wesley-Smith, Vine, Drummond, Franklin, Luca, Tony Hood, Vine, Frederics e.o. - Tall Poppies TPO74
Wattamolla Red - Electronic music by Martin Wesley-Smith - Tall Poppies TPO72
Quito - A documentary music drama about schizophrenia & East Timor - by Martin & Peter Wesley-Smith, featuring The Song Company - Tall Poppies TP111
Puce Muse Live Computer Music - Musiques de Remi Dury, Francis Faber, Gyorgy Kurtag, Serge de Laubier, Jose Augusto Mannis, Bernard Parmegiani
Turn Pain into Power - Fred Ho and the Afro Asian Music Ensemble - OOrecords OO30
Walls of Sound - Ulrich Krieger, saxophones - Works of James Tenney, John Cage, Joseph Celli, Phill Niblock - OOrecords OO32
The Voice of the Poet - works on tape 1972-1986 - David Mahler - Artifact records
Pauline Oliveros - Alien Bog / Beautiful soop - Pogus productions PD 04
Nomad - Polarity Percussion Ensemble - John Kenny - David Moss
Neoapplictana - Ben Azarm with Sam Ashley, K. Atchley, John Bisschoff, Bob Gonsalves, Jim Horton & Brian Reinholt - Artifact 1018
The Julius Hemphill Sextet - At Dr. King's table - New World Records
Shostakovich - Ustvolskaya - Silvestrov - Paul de Jong (cello) - Reinier Van Houdt (piano)
Grew Trio - Stephen Grew pno. - Richard Scott sax. - Phillip Marks prc. - Stonewell Records CD1
Air Mail - Birgit Ulherr tpt. - Wolfgang Ritthoff prc. - Hybrid cd 13
Oxide - Circular Firing Squad : Eva Baumgartner, Xopher Davidson, David Kwan & Tim Walters - Artifact 1017
Contemporary music from Ireland - vol. 2 - Works of Ronan Guilfoyle, James Wilson, Paul Hayes, Ian Wilson, Seoirse Bodley, Frank Corcoran, Fewrgus Johnston, Eibhlis Farrell, Roger Doyle - CMC CD02
Tom Hamilton : Off-hour wait state - some music about the subway - with Thomas Buckner (voc.), Roscoe Mitchell (sax.), Ralph Samuelson (shakuhachi), Peter Zummo (tbn.) & Jonathan Haas (perc.) - Oodiscs 0026
Stuart Saunders Smith - Wind in the channel - with James Ostryniec (ob.), Thomas Moore (pno), Sylvia Smith (voice), Paul Hoffmann (pno), Julia Whybron (recorder), John Fonville (flt), Thomas Goldstein (perc) - Oodiscs 0031
Arthur Jarvinen - Edible Black Ink - The California Ear Unit - Oodiscs 0028
Berhard Gunter - Impossible grey - Metamkine MKCD023
Martha Mooke - Enharmonic Vision - VMP 80301
Xenakis-Varese - Carnegie Melon Philharmonic - Juan Pablo Izquierdo, conductor - Iannis Xenakis : Daemmerschein, Persephassa, La Deesse Athena - Edgard Varese : Ameriques - Mode records 58
Utopia Americana - works of Allen Ginsberg, Steve Reich, Michael Galasso, Ben Neill, John Cage, David Behrman, Pauline Oliveros, Steve Lacy, John Zorn & Andrea Centazzo - New Tone NT 6707
Frederic Rzewski : Jefferson, Antigone-legend - with Carol Plantamura, soprano - CRI CD747
John Cage : Sonatas & Interludes for prepared piano - Maro Ajemian - CRI CD700
John Cage : Two2 - Experiences - 3 dances - Double Edge : Edmund Niemann & Nurit Tilles, duo-pianists - CRI CD732
Chinary Ung : Grand Spiral - CRI CD710
Bun-Ching Lam : Mountain Clear Water Remote - The New Performance Group - CRI CD726
Curtis Macomber : solo violin - Songs of Solitude - American works for solo violin by Shulamit Ran, Mario Davidovsky, John Harbison, Stephen R. Gerber, Elliott Carter & RobertParris - CRI CD706
And trouble came - musical responses to Aids - works of Chris De Blasio, Laura Kaminsky & C. Bryan Rulon - Musicians' Accord - CRI CD729
Arf Arf : Clanguage - Textsound by Marcus Bergner, Frank Lovece, Marisa Stirpe, Michael Buckley
Jerry Hunt : Lattice - CRI CD713
Ai Confini / Interzone - works of Steve Reich, Jon Hassel, Peter Gordon, Harmonia Ensemble, Alessandro Pizzin, Michael Nyman, Bebo Baldan, The Duritti Column, Arturo Stalteri, Wim Mertens, Eddy de Fanti, Antinomia - New Tone 6414
Century XXI UK N-Z - works of Michael Nyman, Jocelyn Pook, Jeremy Peyton Jones, Andrew Poppy, Glyn Perrin, Howard Skempton, John Stanley, Nicholas Wilson - New Tone
Century XXI UK A-M - works of Laurence Crane, Graham Fitkin, Orlando Gough, John Godfrey, David Cunningham, Steve Martland - New Tone
Terry Riley : Persian Surgery Dervishes - New Tone 6715
Charlemagne Palestine : Strumming Music - New Tone
Carl Stone : Kamiya Bar - New Tone
Steve Reich : Four Organs - Phase Patterns - New Tone
Jon Gibson : Two Solo Pieces - New Tone
Jon Gibson : Visiations I & II + Thirties - New Tone
Rolf Julius Small Music Vol. 1 : White-Yellow-Black - SM-1001
Guy Klucevsek : Transylvanian Softwear - JMR4
Guy Klucevsek & the Bantam Orchestra : Stolen Memories - Tzadik
Leo Ornstein - Piano Quintet & String Quartet no. 3 - Lydian String Quartet, Janice Weber, piano - New World Records
Morton Subotnick : and the butterflies begin to sing - The Amernet String Quartet, California E.A.R. Unit - New World Records
Unity in Multiplicity - Gino Robair (perc) & Oluyemi Tomas (sax) - Rastascan Records
Great Circle Saxophone Quartet - Child King Dictator Foul - New World Records
Rudolph Bubalo - Concerto for cello and Orchestra - Concertino - Valence II - Offset I - Regina Mushabac cello, Cleveland Chamber Symphony, Edwin London - cond., Lawrence McDonald (cl), Kenneth Moore (bssn)
Big City Orchestra - Great Hits and Test Tones - Pogus DIDX 019439
If, Bwana - Breathing - Pogus Prod. P 21010-2
If, Bwana - 33Birdswent - Pogus DIDX 032297
New Music For Electronic and Recorded Media - Women in Electronic Music - 1977 - Johanna M. Beyer, Annea Lockwood, Pauline Oliveros, Laurie Spiegel, Megan Roberts, Ruth Anderson, Laurie Anderson - CRI CD 728
Tina Davidson - I hear the mermaids Singing - CRI CD 681
Noisy Colour - Furukawa - Chin - Koenig - Eckert - Aharonian - Degem CD 2
Flemish Contemporary Recorder Music (vol. II) - Geert Van Gele recorders - works of Biesemans - Buckinx - Geysen - Van Landeghem - Vox Temporis Prod. CD 92 031
Quintet of Americas : Self Portrait - works of Pauline Oliveros, Amy Rubin, Lee Hyla, Christopher Culpo, Elliott Sharp - CRI CD 722
Leo Kupper - Electro-Acoustic - Pogus Prod. DIDX 041085
Trigger : All These Things - Paul Hoskin - Fred Lonberg-Holm - Leslie Ross
Common Sense Composers' Collective - works by Dan Becker, Ed Harsh, Carolyn Yarnell, John Halle, Marc, Mellits, Melissa Hui, Belinda Reynolds, Randall Woolf - CRI CD 731
Flies in the face of logic - Piano music by Nick Didkovsky, Steve MacLean & C.W. Vratcek - Pogus 21008-2 - 709
Junk Music - written for and performed on junk, recycled materials and every day - found objects by Donald Knaack - moo 062796 - 707 - 706
Dennis Miller - Concert Music
The open air meeting - Muhal Richard Abrams - Marty Ehrlich - New World Records 80512-2
Divine Grandeur - The New York Concert Singers - Judith Clurman conductor - works by Simon Sargong, Robert Beaser, Ellen Taaffe Zwilich, Aaron
Jay Kernis, Stephan Paulus, Judith Shatin & John Schlenk - New World Record 80504-2
Public Frontation - Noise-maker's fifes
John Cage : The Lost Works (The Complete J.C. Edition vol. 15) - The city wears a slouch hat - Fads and fancies in the academy - A chant with claps - Performed by Essential Music - Mode records 55
John Cage : The Piano Concerto's (The Complete J.C. Edition vol. 16) - Concerto for prepared piano - Fourteen - Stephen Drury, piano - Callithumpian Consort of New England Conservatory, Charles Peltz, conductor - Concert for piano - David Tudor piano - Ensemble Modern, Ingo Metzmacher, conductor - Mode records 57 - 699
Iannis Xenakis : ensemble music 2 - ST-X ensemble Xenakis USA, Charles Zachary Bornstein, conductor
Echange, Okho, Xas, Akrata, A la memoire de Witold Lutoslawski - Mode records 56
Nefastismachine - Maxwells Daemon : Ulrich Boettcher, Uwe Buhrdorf, Ulrich Phillipp - Hybrid
10 petites compositions familiales - Dominique Petitgand - Metamkine MKCD 021
Uitti 2 bows - Improvisations - Bvhaast cd 9505
Dreaming the world - Works by Sorrel Hays - performed by a.o. Thomas Buckner, Joseph Kubera, Brian Charles - New World Records 80520-2
Sakis Papadimitriou -The Song of Lulu - Georgia Sylleou, voice - Ano Kato records 2007
A hero of our time - Works by Walter Aschaffenburg, Edward Miller & Edwin London - New World Records 80511-2
Bathtub Curve - Brian Reinbolt - Artifact records 1015
Duets - Chris Brown, live interactive electronic music duets with Tom Nunn, Wiliam Winant, Ikue Mori & Tom Djil - Artifact records 1016 - 689
Form - Works by Arthur Berger & Stefan Wolpe - New World 80308-2
Spasm - works for bass clarinet - Michael Lowenstern, bass clarinet - Works by M. Lowenstern, Daniel Weymouth, Jerome Kitzke, Arthur Kreiger, Perry Goldstein, Robert Rowe, Mark E. Gibbons, Peter Winkler - New World Records 80468-2
My inner ear - by Jorgen Teller - concert for 3 samplers in the spiral corridor of the Roundtower - Tomorrow's Classics 6002
While you wait - Hannes Loeschel, piano - Paul Skrepek, drums - Martin Zrost, saxophone - EX 273-2 - 684
Bogengaenge - Werner Dafeldecker - Uli Fussenegger - Durian 099cd
The winds - Charles Wuorinen - with Paul Zukofsky, Donald MacCourt, Parnassus & Anthony Korf - New World Records 80517-2
Song for the pigeons - Harry De Wit - Walpurgis 005
Jorge Peixinho - Works for saxophone - Daniel Kientzy, saxophones - Nova Musica 5102
Rock Paper Scissors - Scott Johnson - Point music 454 053-2
XVII. Concorso Internazionale >LuigiRossollo< di Musica Eletroacoustica 1995 - Works by Jozef Hyde, Francesco Giomi, Manolo Remiddi, Jon Christopher, Randall Smith - ef.er.P'95
XVI. Concorso Internazionale >LuigiRossollo< di Musica Eletroacoustica 1994 - Works by Mario Marcelo Mary, Akemi Ishijima, Rodrigo Cicchelli Velloso, Michele Biasutti, Evan Chambers - ef.er.P '94
XV. Concorso Internazionale >LuigiRossollo< di Musica Eletroacoustica 1993 - Works by Ned Bouhalassa, Christian Banasik, Rodrigo Cicchilli Velloso, Xu Shuya, Randall Smith - ef.er.P '93 - 670
Oeuvres diverses - Tsvetan Dobrev - SL 099202
Dennis Cleveland - An opera by Mikel Rouse - New World records 80506-2
Pittsburgh Symphony Orchestra - Lorin Maazel, conductor - Works by Benjamin Lees, Leonardo Balada, Ellen Taaffe Zwillich - New World 80503-2
Muzyka centrum ensemble - Works by Boguslaw Schaeffer, Krzysztof Suchodolski, Zbigniew Indyk, Hector Fiore, Kazimierz Pyzik, Marek Choloniewski - Dworek dbc 02
Dust to dust - Butch Morris - New World 80408-2
Testament : a conduction collection - Butch Morris - New World 80483-2
Mux trio - Lesley Olson, flutes - Olaf Pyras, Michael Vorfeld, perc. - Art CD 004
1. International Electroacoustic Music Contest of Sao Paulo 1995 - works by Paul Koonce, Hans Tutschku, Celso Aguiar, Elisabeth Anderson, Linda Dusman, Lelo Nazario
Aki Takahashi plays Morton Feldman - Volume 1 - Mode 54
Soundbridge - Midi-grand piano - piano - quartertone piano - Loretta Goldberg, keyboards - Works by Sorrel Hays, Annea Lockwood, Daria Semegen, Tui St. George Tucker - Opus one cd 152
---