Logos Workshop
Logos beschikt over een goed uitgeruste en gespecialiseerde werkplaats voor bouw en ontwikkeling van akoestische en elektromechanische muziekinstrumenten. Dit atelier komplementeert de werking van het elektronisch laboratorium en de opnamestudio. Wij hebben een intense samenwerking met experten op het vlak van de traditionele orgelbouw (Ghislain en Dierik Potvlieghe, Stefan Claesens), instrumentenbouw (Tim Duerinck, Joris Buyse) zowel als op dat van de metaalbewerking en de lastechnieken (Godfried-Willem Raes en Filip Switters) en mikroelektronika (Johannes Taelman). Vergeten we niet dat we toch ook de gehele koncertzaal zelf ineen hebben gelast.
At our facility in Ghent, the Logos Foundation has a well equiped workshop for design and construction of new and experimental musical instruments. Complementary to our laboratory for research and development of human interfaces for musicians using electronic circuitry and microprocessors, this workshop is equiped for the construction of both acoustical and mechanical instruments, including full featured robots, as well as concert requisites (music theatre, staged productions, audio art).
We have in house expertise with regard to traditional instrument building (Ghislain Potvlieghe, Tim Deurinck, Joris Buyse and Stefan Claesens are reputed instrument builders) as well as with regard to modern and experimental construction technology: arc-welding, TIG-welding, steelwork, woodwork, pneumatics... After all, we have build our own spaces, including the arc-welded tetrahedron concerthall.
Composers, performers and instrument makers having worked at our workshop include: Genesis P.Orridge (+), Paul Woodrow, Stephen Cripps (+), Lieve De Pelsmaecker (+), Hans Roels, Trimpin, Jerry Hunt (+),Karin Defleyt, Arne Deforce, Johan Vercruysse, Joachim Brackx, Phill Niblock, Godfried-Willem Raes, Moniek Darge, Johan Neyt, Guy De Bievre, Jane Henry, Rui Calapez-Gomes, Maria Blondeel, Johan Grimonprez, Christoph Fink, Francesca Verbauwhede, Jacques Remus, Xavier Verhelst, Stefaan Smagghe, Geert Logghe, Dick Raaijmakers (+), Marc Maes, Sarah Eyckermans, Leonaar Degraeve, Rene Mogenson, Manu Frederickx, Laura Maes, Kristof Lauwers, Werner Schurmans, Johannes Taelman, Troy Rogers, Hans Beckers, Luk Vaes, Tim Deurinck, Mattias Parent, Philippe Druez...
Projects realized in our workshop:
Midi controller console (2002)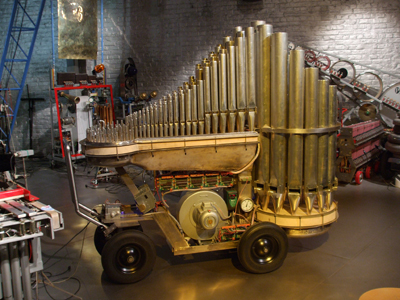 Available instruments, build in our workshop:
Log drums (Teponatzli)
Woodblocks
Templeblocks
Xylophones
Fork resonators
whistles
Monochords
Player-piano vorsetzer (3)
Barrelorgan
AutoSax
Theremins
Melauton
tubular bells
bullroarers, rommelpotten, cuicas, lions roars
Rotomoton
Klung
Springers
Thunderwood
Vibi
Belly
Flex
Tubi
Trump
So
Puff
Hurdy
Ake
Vacca
Vitello
Qt
Player Piano II, with pedal
Toypi
Simba
Bono
Korn
Bako
Ob
HarmO
Bomi
Fa
Spiro
Temblo
Horny
Klar
Asa
Whisper
Rodo
Bello
3 airplane propellers
Hybr
HybrHi
HybrLo
Melauton
Pi
Tinti
Chi
2Pi
Balsi
Pos
RorO
Tubo
Flut
Trumpeter
Cornalto
Pianet
Sperhak
Plus-Minus
Hunt
Rumo
Instruments to the order of third parties:
5 large canons with explosives and remote control (for Bozar, Philharmonic Society)
Holosound (for the Klankspeeltuin Amsterdam)
Invisible Instrument (for the Brussels MIM museum)
PVC-project (for Musica, Neerpelt) (2015-2017)
Projects under study:
Tools and equipment available at the workshop:
Odin MDW Professional Column drill (550kg)
Fein Electric Handdrill (slow, for steel)
Fein Threading machine
Metabo Electric Handdrill
Circular Power Saw
Large angular cutting grinder (for steel)
Small angular cutting grinder (for steel)
pipe cutters (up to 4") and reamers
Electric welding equipment (Genesis)
TIG welding equipment, with Argon gas.
Power Hacksaw
Plasma cutter (Genesis)
hundreths of clamps, vises, wrenches
hydraulic pipebender 1/4" - 6/4" (Ridgid), with shapers for flat staff materials
electric tablesaw for steel (Ridgid)
electric cutting-off machine for stainless steel MACC model NEW250DV with cobalt blades and automatic fluid cooling
Abac radial compressor 10Bar, 4kW, with 150 liter tank
pneumatic drill
pneumatic rivetting machinery.
pneumatic hammers for steel working
pneumatic high speed grinders
Contimac lathe for metals. (span 500mm)
Professional Welding Table (Siegmund) with clamping tools
Air Liquide Acetylene welding and brasing equipment with a variety of torches, including microminiature types.
Proxxon MF70 miniature milling machine (6000 to 20000 rpm)
Arbor Press (3 Tons), Bernardo DP3
Sander, triangular head.
Ribbon sander.
Flatface grinder, Bernardo TS300
adjustable honing tools and reamers
Microwave oven with hotpot for glass melting and fusing.
Spoke thread rolling machine (Eldi).
Organ pipe tuning cutter machine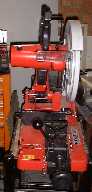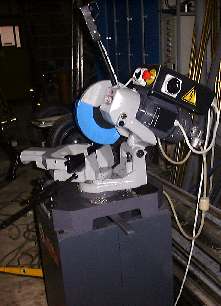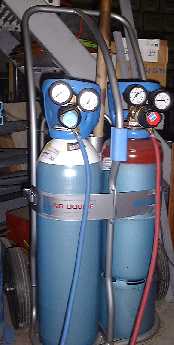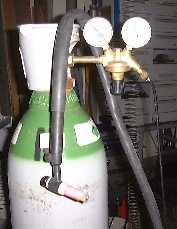 Acetylene and TIG welding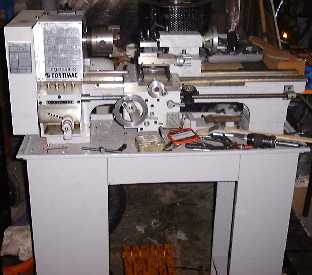 Lathe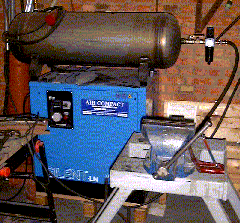 Compressor (10 Bar)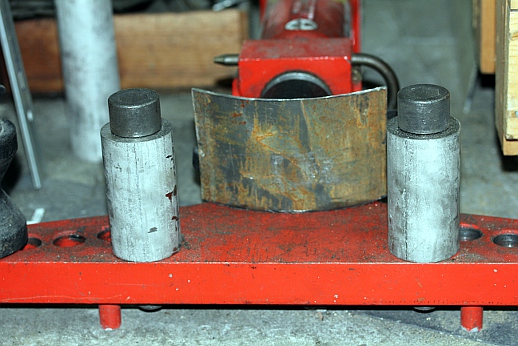 Ridgid pipe bender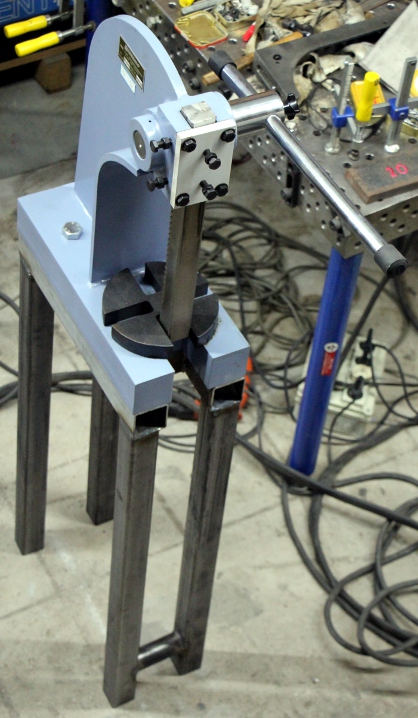 Arbor Press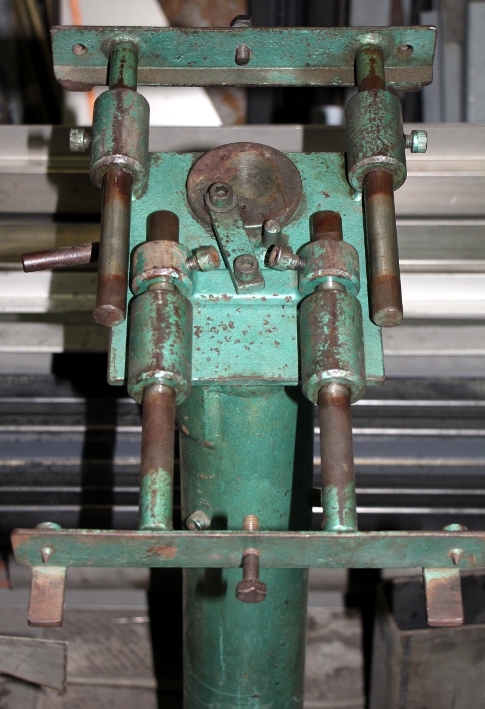 Stretching tool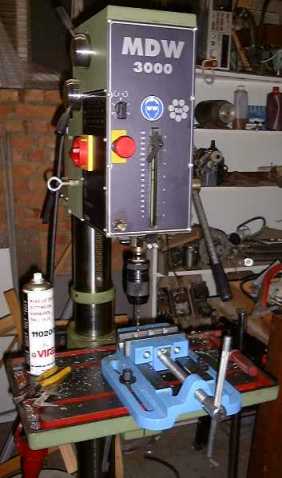 Column drill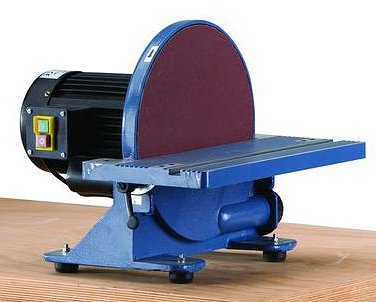 flatface grinder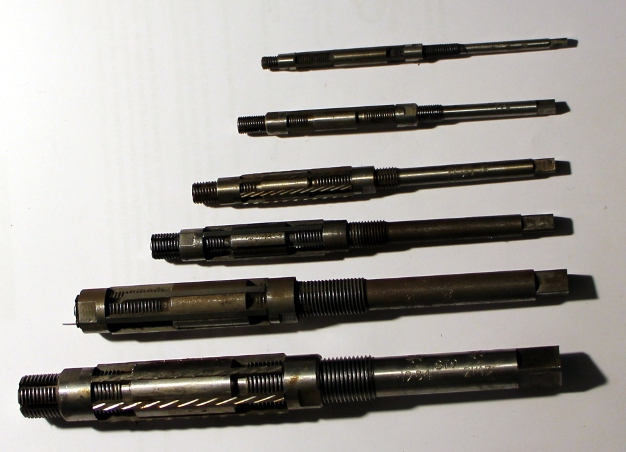 honing tools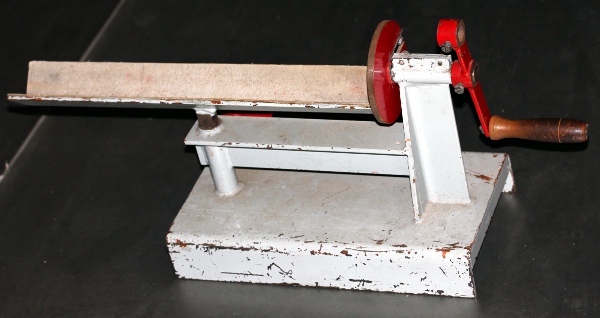 organ pipe tuning cutter machine
Musical Instrument Collection
We own quite a wide range of traditional, exotic and experimental instruments that can be used for performance of new music as well as for sound recording. The collection includes:
Clavichord (historical copy of 18th century instrument build by Clement Hengst, Noorden 1988, with modifications by G.-W.Raes) 5 octaves, not bound.
Kawai KG1 Grand Piano, 1979 (+ Vorsetzer)
Small Harmonium (Reed organ) (4 octaves, no registers, expression)
Javanese Gongs (Gamelan) - many different sizes, including very large (and heavy...)
2 Javanese Genders (Gamelan)
1 Pattala (Birma) (Heptatonic equal temperament)
Congas (3), bongos (6), snaredrums, rototoms (3)
Large historical bass and tenor drums (natural skins)
Wide collection of cymbals (Chinese, Turkish...) and bell-cymbals, including tibettan Rolmoh's
Bronze plate-gongs (Ufip) (6)
baritone, alto, cornet, bass trumpet...
Suling, ken, heptatonic pattala, dilruba, erhu, log-drums, templeblocks, woodblocks, cuica, rommelpotten,klappers, guiros, chuvas
Didgeridoo, Han Koto, Wind Gong, Chinese, Japanese and Tibetan sound bowls
Large collection of exotic percussion instruments, including large and small Indonesian, Chinese and Balinese Gongs
Historical clarinets (all sizes and tunings...), ocarinas, conshell-trumpets
Banjo, 3 Mandolin's, 2 Balalaika's, (NO guitars!)
Violin, Viola, Cello, Pochette, Soprano Gamba
Waterphone (by Richard Waters)
Springboard, Monochords, Zithers, Anvils, Thundersheets, Break drums…
Crackle box (4), (2 by Michel Waisvisz)
Oxenbells, Elephantbells, Cowbells, Shipbells, Tubular Bells, Dinner Bells, Doorbells, Alarmbells.
Large crank driven sirens
Highland Bagpipes
Hommel
Theremins (6)
Last updated: 2021-12-11