1970 - 1971 - 1972 - 1973 - 1974 - 1975 - 1976 - 1977 - 1978 - 1979 - eighties >
Concerts at Logos - 1970
Nederlandse tekst over 10 jaar Logos 1968-1979
Voor een goed verhaal over de geschiedenis van logos, is er het boek van Godfried-Willem Raes: 'Logos @ 50, het kloppend hart van de avant-garde muziek in Vlaanderen' (ed. Stichting Kunstboek, Oostkamp, 2018)
---
In 1970 the people in the logos workshop were: Godfried-Willem Raes, Mark Desmet, Emmy Meirlaen, Etienne Baert, Jan Van Opstal, Roel Goussey, Jan Kerkhof, Frank Vercruysse (+). We had our rehearsal room in the 'Pand' in the infamous Patershol district in Ghent but later in the year, we moved our rehearsal spaces to Schoenlapperssteeg. Godfried-Willem Raes continued his activity as president of the Universitary Musicclub (UMG) and thus had the opportunity to organize new music concerts and to visit and invite musicians from abroad.
The group, operating as a chamber music ensemble, had a repertoire with pieces by Karlheinz Stockhausen, David Behrman, Morton Feldman, John Cage, Larry Austin, Cornelius Cardew, Earle Brown, Max Eugen Keller, Godfried-Willem Raes, Iannis Xenakis, Christian Wolff, Robert Ashley, Rolf Gehlhaar.
Further personal contacts were established with composer/performers/groups such as Cornelius Cardew, Sonic Arts Union, Gordon Mumma, Louis Andriessen, Peter Schat, Ladislav Kupkovic, Guenther Becker, Warren Burt, Claude Vivier, Max Eugen Keller, Paul Van Gijsegem, Dick Raaijmakers. Godfried-Willem Raes, together with Jan Van Opstal studied at Darmstadt with Karlheinz Stockhausen and Gyorgy Ligeti.
---
20.01.1970: ProKA: Electronic Music concert at the Academie of Fine Arts: Lucien Goethals
22.01.1970: Confrontation concert: Avant garde (Logos Group) versus free jazz (Paul Van Gijsegem Quintet)

10.02.1970: Tentoonstelling eigentijdse muziekpartituren: Akademie voor schone kunsten
17.02.70: Logos Ensemble, Koninklijke Akademie voor Schone Kunsten Gent: Muziek van Cornelius Cardew, David Behrman, Godfried-Willem Raes, Christian Wolff Mark De Smet Emmy Meirlaen Etienne Baert Jan Can Opstal Frank Vercruysse Oktaaf Van Geert Roel Goussey Godfried-Willem Raes
24.02.1970: Pianokwartet Martinu Emil Leichner, viool Josef Curda, altviool Antonin Duda, cello Emil Leichner jr, piano
26.02.1970: Avant-garde jazz: Pierre Favre kwartet
17.03.1970: ProKA: Enteuxis ensemble olv Raoul De Ghouy, Walter Lievens. Wham (olv. Boudewijn Buckinx)
17-18-19.08.70: Logos werkweek, Destelbergen: Godfried-Willem RAES >berichten en Berechten<
18.09.70: Logos try-out Koncert, Schoenlapperssteeg Gent
20.09.70: ProKA, Logos koncert
30.09.70: Logos try-out koncert, Schoenlapperssteeg Gent: Works by Cardew, Wolff, Logothetis, Brown, Raes
20.10.70: ProKA: Logos Koncert Klavecimbel recital hedendaagse muziek Johan HUYS (klavecimbel) Godfried-Willem RAES (electronics). Premiere of this 'Epitafium for Gamal Abdel Nasser' for harpsichord and electronics.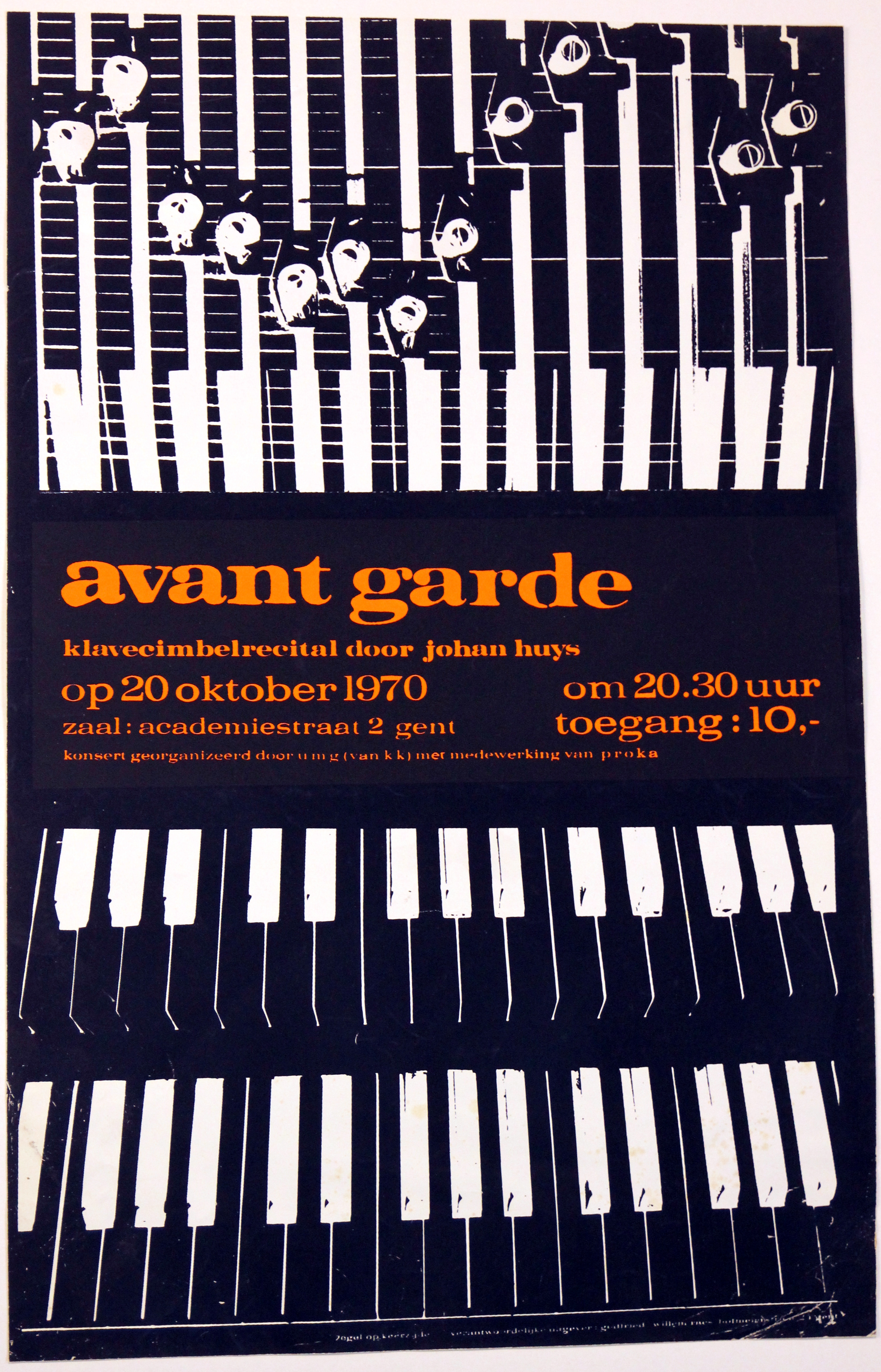 25.10.70: Logos Ensemble, Izegem, Stedelijke Akademie voor Muziek en Woord Wiljam Van Marsenille Frank Vercruysse Jan Van Opstal Etienne Baert Godfried-Willem Raes
26.10.70: Elektroniese Muziek Konsert: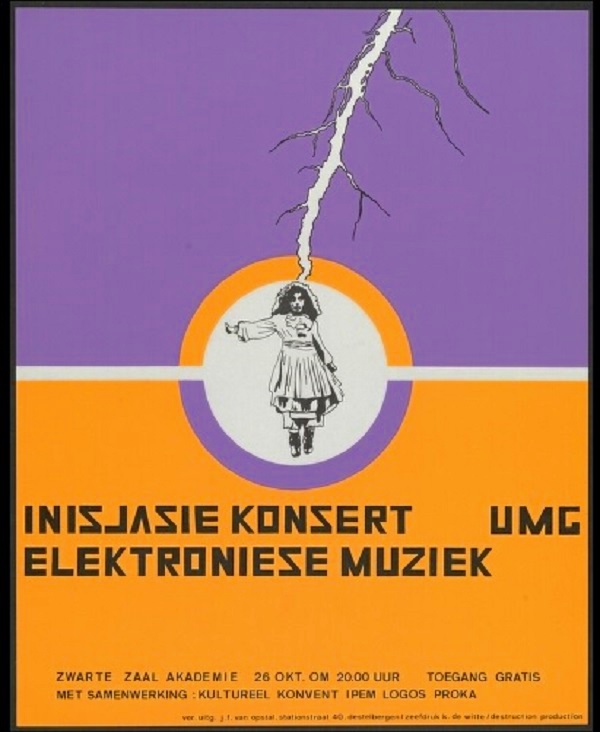 27.10.70: St.Pietersabdij: Musica Elettronica Viva: Alvin Curran, Steve Lacy, Frederic Rzewski e.a.
24.11.70: Sint Pietersabdij Gent: 'Gruppe Fuer Musik', (Basel) Stockhausen Cage Earle Brown Max Eugen Keller
08.12.70: Musical Workshop Warshau olv. Zygmunt Krauze
09.12.70: ProKA: Kerstmuziek Schorremorre Logos
THIS LIST IS NOT COMPLETE - WE HAVE TO DIG FURTHER INTO OUR ARCHIVES

Last updated: 2021-11-04