---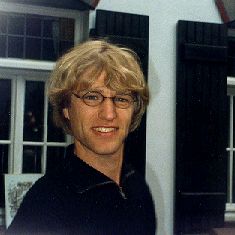 (į7/11/1971, Lokeren,BelgiŽ) volgde vanaf 12-jarige leeftijd piano aan de muziekacademie van Lokeren. Naast het spelen van het obligate pianorepertoire hield hij zich ook bezig met het zelf bedenken en improviseren van allerlei stukken. Vanaf 1989 studeerde hij piano bij de hedendaagse muziekspecialist Claude Coppens aan het conservatorium van Gent (B). Na zijn pianostudies volgde hij kompositielessen bij Jan Rispens, dr.Godfried-Willem Raes en Roland Corijn. Sinds hij in 1996 zijn studies beŽindigde kreeg hij verschillende opdrachten van o.a. het ensemble Champ d'Action, Stichting Logos, het muziektheater Walpurgis, het Spectra-ensemble en November Music. Zijn stukken werden vooral in BelgiŽ maar ook in landen als Nederland, Duitsland en Denemarken gespeeld. In 1999-2000 volgde hij de voortgezette opleiding kompositie bij dr. Godfried-Willem Raes. In 2008 verliet hij zijn opdracht bij Stichting Logos als koncertprogrammator en artistiek leider van de receptieve werking, om zich toe leggen op het afwerken van een doktoraat in de kunsten aan de Associatie Universiteit Gent.
De komponist omschrijft zijn muziek als een soort 'onstabiel grensgebied' tussen muziek en geluid, orde en chaos. Voortdurend lijkt het of zijn muziek helemaal uit elkaar gaat vallen. Typische kenmerken zijn : het regelmatig gebruik van glissandi (glijdende toonhoogtes), het gelijktijdig vertragen en versnellen van het tempo (wat een zeer onstabiel en rekbaar tempo doet ontstaan), geluidsterktes die voortdurend in beweging zijn, een voortdurend heen en weer balanceren tussen meerstemmigheid, ťťnstemmigheid en versierde ťťnstemmigheid (heterofonie),... Door deze technieken vloeien allerlei klassieke tegenstellingen (vb tussen verschillende toonhoogtes, tussen melodie en harmonie) in elkaar over.
De muziek die Hans Roels schrijft is vooral beÔnvloed door enkele grote namen uit de hedendaagse muziek zoals Luigi Nono, Giacinto Scelsi, Gyorgy Ligeti, Salvatore Sciarrino, Alvin Lucier en John Cage.
---

Komposities:
een tiental komposities tijdens zijn studieperiode aan het conservatorium
1995
'8 short songs for voice and (prepared) piano'
voice & piano
1995
"Sailing the seas of down below"
player-piano
12'
(beschikbaar op CD: PD004, Logos Public Domain) in opdracht van Stichting Logos
1996
'Phoenix'
(bas)klarinet, cello, slagwerk (2 spelers) en zang
10'
in opdracht van het muziektheater Walpurgis
1997
'Nature Morte'
fluit (picc.), klarinet (baskl.), piano, slagwerk, viool, altviool en cello
10'
in opdracht van het Spectra-ensemble
1998
'Nowhere's Chaos'
sopraan en mezzo-sopraan, 2 hobo's, 2 hoorns, 2 trombones, 2 trompetten, 4 altviolen, piano
5'
in opdracht van het November Music festival '98
1999
'...von Hunderten, von Tausenden...'
strijkorkest (6 eerste violen, 6 tweede violen, 3 altviolen, 2 cello's en contrabas)
12'
in opdracht van het kamerorkest Prima La Musica
2000
Run!
fl, cl, hn, trb, perc, pno, strijkkwintet & tape
11'
in opdracht van Spectra ensemble
2001
Stiltegebieden/Silence Reserves
vl, vla & tape
8'
in opdracht van Champ d'Action
2001
How it takes place
voc, flt, clt, vln, vla, vcl, git/mandoline, perc & pno
9'
in opdracht van Champ d'Action
2002
Ohne Worte I
voc, vla, perc & mixer
4'
in opdracht van Q-O2
2003-2004
Dubbelstuk
player piano & pianist
8'

in opdracht van het Logos M&M ensemble

Beschikbaar op CD: LPD013

2004
Ohne Worte II
voc, vla, perc& electronics
5'
---
As a teenager Hans Roels (į7/11/1971, Lokeren, Belgium) went to the music school in Lokeren (B). Besides playing the standard piano repertoire he enjoyed composing and improvising. From 1989 on he studied piano with the contemporary music specialist Claude Coppens at the Royal Conservatory for Music in Ghent(B). Consequently he followed courses in composition with Jan Rispens (NL), Roland Corijn(B) and dr. Godfried-Willem Raes (B) at the same conservatory.
After he finished his studies he received various commissions from the Logos Foundation, the Spectra Ensemble, Champ d'Action and others. His works were mostly played in Belgium but also in Holland, Germany, Spain, France and Denmark.
The music he writes is influenced by well-known contemporary composers like Luigi Nono, Giacinto Scelsi, Gyorgy Ligeti, Salvatore Sciarrino, Alvin Lucier and John Cage.
---

Compositions:
10 pieces written when studying at the Conservatory
1995
'8 short songs for voice and (prepared) piano'
voice & piano
1995
Sailing the seas of down below"
player-piano
12'
(available on CD: PD004, Logos Public Domain) commissioned by the Logos Foundation
1996
'Phoenix'
(bass) clarinet, cello, perc. (2 players) and voice
10'
commissioned by Walpurgis
1997
'Nature Morte'
flt. (picc.), (bass) clt., pno., prc, vln., vla. and vcl.
10'
commissioned by Spectra
1998
'Nowhere's Chaos'
soprano and mezzo-soprano, 2 oboes, 2 horns, 2 trombones, 2 trumpets, 4 violas, piano
5'
commissioned by November Music festival '98
1999
'...von Hunderten, von Tausenden...'
strings (6 1st. violins, 6 2nd. violins, 3 violas, 2 cello's and double bass
12'
commissioned by Prima La Musica
2000
Run!
fl, cl, hn, trb, perc, pno, string quintet & tape
11'
commissioned by the Spectra Ensemble
2001
Stiltegebieden/Silence Reserves
vl, vla & tape
8'
commissioned by Champ d'Action
2001
How it takes place
voc, flt, clt, vln, vla, vcl, git/mandolin, perc & pno
11'
commissioned by Champ d'Action
2002
Ohne Worte I
voc, vla, perc & mixer
4'
commissioned by Q-O2
2003-2004
Dubbelstuk
player piano & pianist
8'

commissioned by the Logos M&M ensemble

(Available on CD: LPD013)

2004
Ohne Worte II
voc, vla, perc& electronics
5'
First published on the web may 23th 00. Last Update: 2008-10-07