Some pictures from the logos trio California tour, april 1998.
On april 9th the Logos trio performed Godfried-Willem Raes' <Songbook> at San Jose State University (SJSU). The performers were: Moniek Darge, Joachim Brackx and Godfried-Willem Raes. The concert was hosted by Larry Wendt at the Music Department.
On april 11th they visited the new venue 'Beanbenders' situated in Berkeley, Shattuck Avenue 2295. A most interesting placing serving the needs of local experimental artists in the areas of music, theatre, literature and even... opera. Their premises also contain a most interesting tinkers workshop, curated by Nick Bertoni.
On easter, april 12th, KPFA radio at Berkeley invited the logos ensemble for a two hour show hosted by composer/producer Carl Stone. They performed <Songbook> during the radio broadcast and gave ample information about other logos works as well.
---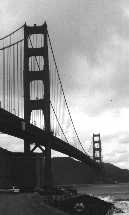 golden gate bridge, San Francisco
Joachim Brackx, performing 'Songbook' at San Jose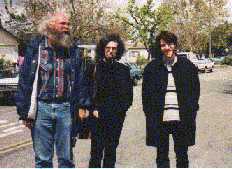 poet & textsound composer Larry Wendt, Godfried-Willem Raes and Joachim Brackx in San Jose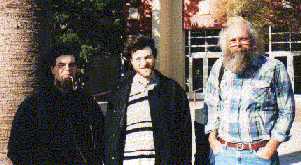 Moniek Darge, introducing 'Songbook' at San Jose, SJSU, Music Department. April 9th 1998.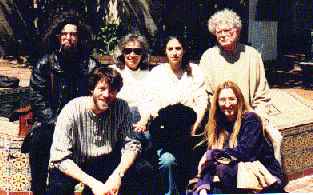 Godfried-Willem Raes, Joachim Brackx, Nina, Jocelyn, Moniek Darge and trombonist//improvisor Ron Heglin, downtown San Francisco, on eastersunday 1998.
---
Last updated on September 06, 1998 by Godfried-Willem RAES